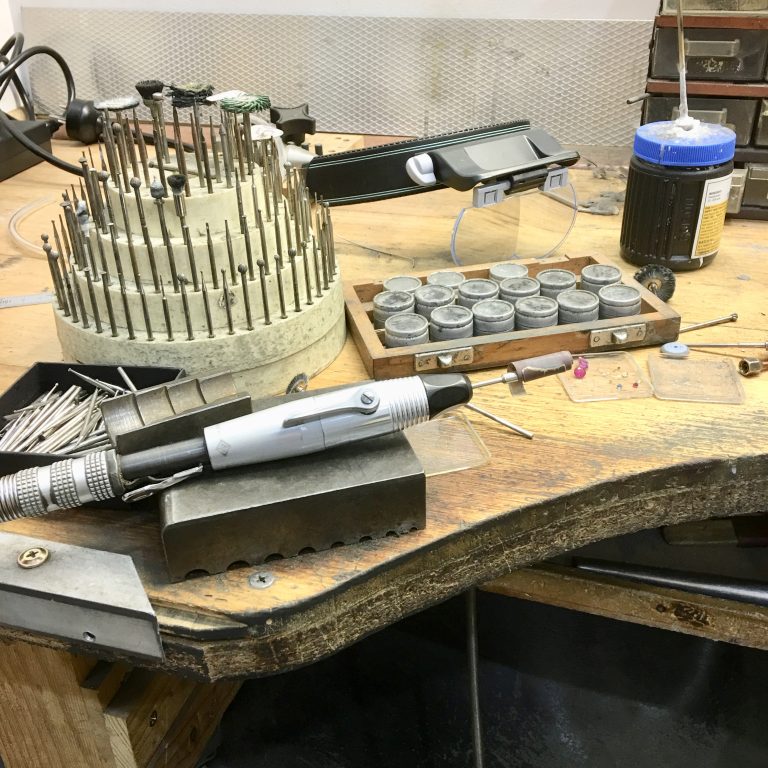 ---
Shane's interest in jewellery making started when he was 14 when the first piece he made was a 9ct gold heart pendant.
The Hinton name was established in 1864 at 90 Gawler Place and in these early days were Pawnbrokers. His Grandfather Jo, transformed the business into retail jewellery and commissioned beautifully handmade pieces that were exclusive to the name.
Shane's father and brother continued the Business from Gawler Place until 1965 when they shifted into Adelaide Arcade. Shane joined them in the business in 1980. There he developed his skills as a trade hand engraver and stone setter, combining these skills with the art of handmade jewellery fabrication and its repair.
In 1987 the Adelaide Arcade shop was closed. His father was then 75 and wanted to retire (rightly so), and his brother – a watchmaker pursued another path due to health issues.
Shane established himself strongly in the industry in his own right, doing ring making, repairs, setting and engraving. His Business thrived, as many manufacturing jewellers would send him their work to be set. Shane could make, set and engrave which made his work efficient with a clear understanding, as he did everything from start to finish. He was the only hand engraver in Adelaide for 30 years.
Following several locations in Adelaide City, he finally decided in 2003 to set up in Balhannah. Being a trade workshop only at the outset, he soon found that locals started knocking on his door for all sorts of jewellery related enquiries.
He then became so busy with this local support, that he decided to withdraw from his trade accounts to service his local customers instead. His reputation has spread largely by word of mouth throughout the Adelaide Hills, the wider Adelaide community and well beyond.
He specialises in re-design and re-modelling work, engagement and wedding rings, Estate work and exclusive to Hinton Jewellers – "The Initially Collection".
In recent years his expertise has expanded to sourcing rare and precious gem stones for specific clients, and designing and hand making exquisite pieces for them, such as the rare Paraiba Tourmaline, Red Spinel and Yellow Diamonds.
Shane's work is meticulous in detail. All his work is done onsite. When you commission Shane he is the one you will consult with, and he is the one who will answer the phone when you ring to discuss it, and he is the one who will sit at his bench and masterfully create it for you. He is a true craftsman and will provide you with his personal attention and service.